Back to top
Civics
Economics
Environment
Health Care
National Security
Announcing the 2020 Hoover Institution Summer Policy Boot Camp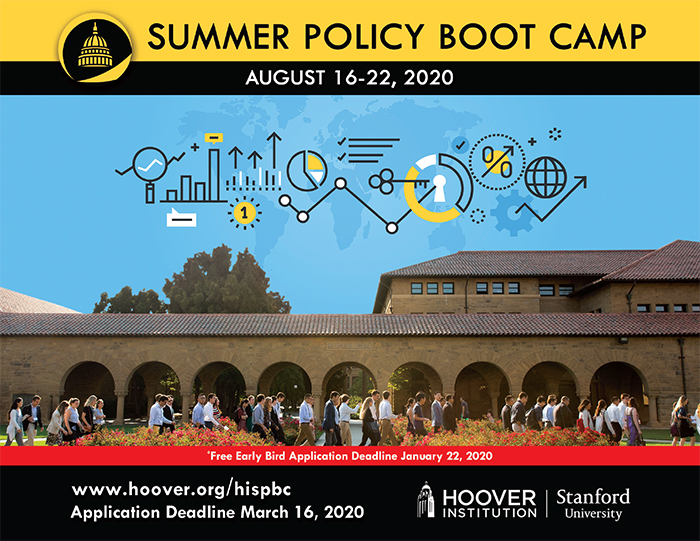 The 2020 Hoover Institution Summer Policy Boot Camp is an important program that is taking place at the Hoover Institution, located on the campus of Stanford University. With over one hundred years of historical relevance influence and shaping public policy, the Hoover Institution's mission and values continue to be focused on individual, economic and political freedom; private enterprise; and effective and limited government. This one-week, residential program for top college students and recent graduates will take place August 16-22, 2020.

The HISPBC program covers the essentials of today's most important public policy challenges. Students will have a unique opportunity to interact with the faculty of Stanford University's Hoover Institution, which is made up of renowned scholars in economics, government, political science, and related fields. The principle that policy solutions should be based on critical analysis of data and evidence is stressed.

The program is free of charge to accepted participants (including lodging and meals). Attendees will be responsible for travel costs and incidentals.
The early application deadline is January 22, 2020 with no application fee required.
All applications submitted after January 22nd will require the standard application fee and are due March 16, 2020
---


2020 Featured Faculty* Include:

Scott W. Atlas, Peter Berkowitz, David Brady, Bruce Caldwell, John Cochrane, John F. Cogan, Elizabeth Economy, Niall Ferguson, Stephen Haber, Eric Hanushek, Caroline Hoxby, Erik Hurst, Edward P. Lazear, David L. Leal, Bjorn Lomborg, James Mattis, Michael W. McConnell, H.R. McMaster, Condoleezza Rice, Amit Seru, Jacquelyn Schneider, John B. Taylor, & John Yoo.
*All faculty subject to change.