Back to top
Civics
Economics
Environment
Health Care
National Security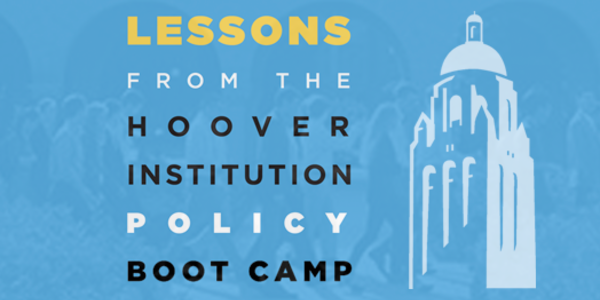 PolicyEd Introduces Lessons from the Hoover Institution Policy Boot Camp
The Hoover Institution's PolicyEd program is launching a new video series "Lessons from the Hoover Institution Policy Boot Camp," featuring lectures from the intensive, one-week program available to a select group of college students, recent graduates, and young professionals. Covering the economic, political, and social aspects of United States public policy, this new video series makes this exclusive educational content available to everyone.
Each subject features a four-part video lecture given by Hoover Institution fellows who are experts in their field. The videos are accompanied by assigned readings, quiz questions, and FAQ.
The first set of lectures released today feature Hoover Senior Fellow John B. Taylor. Taylor chairs the Hoover Working Group on Economic Policy and is director of Stanford's Introductory Economics Center. His fields of expertise are monetary policy, fiscal policy, and international economics. His book Getting Off Track was one of the first on the financial crisis; his latest book, First Principles, for which he received the 2012 Hayek Prize, develops an economic plan to restore America's prosperity. As the kick-off speaker at the 2018 Hoover Institution Summer Policy Boot Camp, Taylor focused on "Monetary Policy: What works and what doesn't."

An Introduction to "Understanding Monetary Policy" with John B. Taylor
Click here to access the full experience including the lecture videos, related resources, discussion questions, quizzes and a knowledge base.

About the Hoover Institution Summer Policy Boot Camp
The Hoover Institution's Summer Policy Boot Camp (HISPBC) is an intensive, one week residential immersion program in the essentials of today's national and international United States policy. The program is intended to instruct college students and recent graduates on the economic, political, and social aspects of United States public policy. The goal is to teach students how to think critically about public policy formulation and its results.
Designed to foster fact-based critical thinking on the most important policy issues, students will have a unique chance to interact directly with the faculty of Stanford University's Hoover Institution, comprised of world-renowned scholars in economics, government, political science, and related fields. Session topics are selected because of their immediate relevance to today's and tomorrow's challenges. Participants will collaborate through class discussions and study groups that encourage diverse perspectives. Enrollment is limited, in order to facilitate maximum interaction with the faculty and other participants.
For more information about HISPBC, click here.