Back to top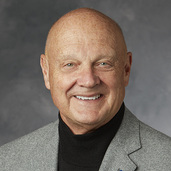 Admiral James O. Ellis Jr.
Annenberg Distinguished Visiting Fellow
Admiral James O. Ellis Jr. is the Annenberg Distinguished Visiting Fellow at the Hoover Institution. James O. Ellis Jr. retired as president and chief executive officer of the Institute of Nuclear Power Operations (INPO), in Atlanta, Georgia, on May 18, 2012. In 2009 he completed three years of service as a presidential appointee on the President's Intelligence Advisory Board and, in 2006, was a member of the Military Advisory Panel to the Iraq Study Group.
His service as a navy fighter pilot included tours with two fighter squadrons and assignment as commanding officer of an F/A-18 strike/fighter squadron. In 1991, he assumed command of the USS Abraham Lincoln, a nuclear-powered aircraft carrier. After selection to rear admiral, in 1996 he served as a carrier battle group commander leading contingency response operations in the Taiwan Straits. His shore assignments included numerous senior military staff tours including commander in chief, US Naval Forces, Europe, and commander in chief, Allied Forces, Southern Europe, during a time of historic NATO expansion. He led United States and NATO forces in combat and humanitarian operations during the 1999 Kosovo crisis.
Ellis holds a master's degree in aerospace engineering from the Georgia Institute of Technology and, in 2005, was inducted into the school's Engineering Hall of Fame. He completed United States Navy Nuclear Power Training and was qualified in the operation and maintenance of naval nuclear propulsion plants. He is a graduate of the Navy Test Pilot School and the Navy Fighter Weapons School (Top Gun). In 2013, Ellis was elected to the National Academy of Engineering.