Back to top
Warning message
All user accounts are temporarily disabled for scheduled maintenance until 11PM on 3/30/20 (Pacific Time). We apologize for the inconvenience.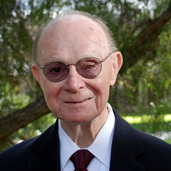 Allan Meltzer
Distinguished Visiting Fellow
Allan Meltzer is a distinguished visiting fellow at the Hoover Institution and the Allan H. Meltzer University Professor of Political Economy at the Tepper School of Business at Carnegie Mellon University. He has served as a consultant for several congressional committees, the President's Council of Economic Advisers, the US Treasury Department, the Board of Governors of the Federal Reserve System, the World Bank, foreign governments, and central banks. He has been a member of the President's Economic Policy Advisory Board and was an acting member of the President's Council of Economic Advisers (1988-89). He served as chairman of the Meltzer Commission (1999-2000).
Meltzer's writings have appeared in numerous journals; his most recent publication is Why Capitalism? (2012). He has authored several books, including A History of the Federal Reserve (2003 and 2009) and numerous papers on economic theory and policy.