Back to top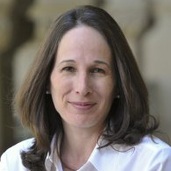 Amy Zegart
Davies Family Senior Fellow
Amy Zegart is the Morris Arnold and Nona Jean Cox Senior Fellow at the Hoover Institution and Professor of Political Science (by courtesy) at Stanford University. She is also a Senior Fellow at Stanford's Freeman Spogli Institute for International Studies, Chair of Stanford's Artificial Intelligence and International Security Steering Committee, and a contributing writer at The Atlantic. She specializes in U.S. intelligence, emerging technologies and national security, grand strategy, and global political risk management.
Zegart has been featured by the National Journal as one of the ten most influential experts in intelligence reform. Most recently, she served as a commissioner on the 2020 CSIS Technology and Intelligence Task Force (co-chaired by Avril Haines and Stephanie O'Sullivan) and has advised the National Security Commission on Artificial Intelligence. She served on the Clinton administration's National Security Council staff and as a foreign policy adviser to the Bush 2000 presidential campaign. She has also testified before the Senate Select Committee on Intelligence and advised senior officials on intelligence, homeland security, and cybersecurity matters.
The author of five books, Zegart's award-winning research includes the leading academic study of intelligence failures before 9/11 — Spying Blind: The CIA, the FBI, and the Origins of 9/11 (Princeton 2007). She co-edited with Herbert Lin Bytes, Bombs, and Spies: The Strategic Dimensions of Offensive Cyber Operations (Brookings 2019). She and Condoleezza Rice co-authored Political Risk: How Businesses and Organizations Can Anticipate Global Insecurity (Twelve 2018) based on their popular Stanford MBA course. Zegart's forthcoming book is Spies, Lies, and Algorithms: The History and Future of American Intelligence (Princeton 2022). Her research has also been published in International Security and other academic journals as well as Foreign Affairs, the New York Times, Washington Post, and Wall Street Journal.
Previously, Zegart served as codirector of Stanford's Center for International Security and Cooperation, founding codirector of the Stanford Cyber Policy Program, and chief academic officer of the Hoover Institution. Before coming to Stanford, she was Professor of Public Policy at UCLA and a McKinsey & Company consultant.
She is the recipient of a Fulbright Fellowship, the American Political Science Association's Leonard D. White Dissertation Award, the National Academy of Public Administration's Brownlow Book Award, two UCLA teaching awards, and grants from the Carnegie Corporation of New York, the Hewlett Foundation, the Smith Richardson Foundation, and the National Science Foundation.
A native of Louisville, Kentucky, Zegart received an A.B. in East Asian studies magna cum laude from Harvard University and an M.A. and Ph.D. in political science from Stanford University. She serves on the board of directors of Kratos Defense & Security Solutions (KTOS) and the Capital Group.