Back to top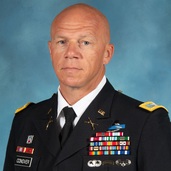 Col Drew Conover
Colonel Drew Conover, representing the US Army, was formerly a National Security Affairs Fellow for the academic year 2021-2022 at the Hoover Institution.
Drew was commissioned as an infantry officer in 2001 and served in assignments throughout the continental United States and Germany where he deployed multiple times to both Iraq and Afghanistan. Drew commanded the 1st Battalion, 16th Infantry Regiment in the 1st Infantry Division from 2018-2020 where he deployed his battalion to easter Europe. Prior to his fellowship at Hoover, Drew served as the Operations Officer (G3) for the 4th Infantry Division and Fort Carson.
Colonel Conover earned a bachelor of arts in business and economics from the Virginia Military Institute and a master of military arts and science from the U.S. Army School of Advanced Military Studies.
More From Col Drew Conover