Back to top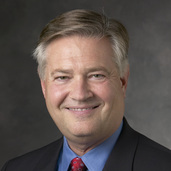 David Davenport
David Davenport is a research fellow emeritus at the Hoover Institution and a senior fellow at the Ashbrook Center. He specializes in constitutional federalism, civic education, modern American conservatism, and international law.
Davenport is the former president of Pepperdine University (1985–2000). Under his leadership, the university experienced significant growth in quality and reputation. Davenport cofounded Common Sense California and the Davenport Institute for Public Engagement and Civic Leadership. He also served on the board of California Forward, a major bipartisan reform group, and was a member of Governor Schwarzenegger's California Performance Review Commission. He was a visiting fellow at the Ashbrook Center working on civic education from 2016 to 2018.
He is a regular columnist for the Washington Examiner and his study, "Commonsense Solutions To Our Civics Crisis," was published by the Orrin G. Hatch Foundation in 2020.
He has coauthored three books with his colleague Gordon Lloyd: How Public Policy Became War (2019), Rugged Individualism: Dead or Alive? (2017), and The New Deal and Modern American Conservatism: A Defining Rivalry (2013). These books offer distinctive ways of understanding both the current and the historic debates between progressives and conservatives.
Davenport has also contributed chapters to Hoover books on values in a free society and legal threats to American values; and has authored articles in Policy Review on "The New Diplomacy" and "The Politics of Literacy."
Davenport earned a BA with distinction in international relations from Stanford University and a JD from the University of Kansas's School of Law, where he was elected to Order of the Coif and earned national and international awards in moot court competitions.
More From David Davenport