Back to top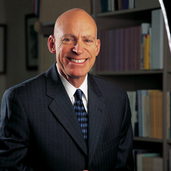 Edward Lazear
Lazear served at the White House from 2006 to 2009, where he was chairman of the President's Council of Economic Advisers. Before coming to Stanford, he taught at the University of Chicago.
Lazear has received numerous honors and prizes: among them, the 1998 Leo Melamed Biennial Prize for the best research by a business school professor, the 2004 Prize for Outstanding Contributions to Labor Economics from the Institute for the Study of Labor, and the 2006 Jacob Mincer Prize for lifetime achievement in the field of labor economics. He holds four honorary degrees, the most recent from the Copenhagen Business School (2013).
Founding editor of the Journal of Labor Economics and founder of the Society of Labor Economists, he is also an elected fellow of the American Academy of Arts and Sciences, the American Association for the Advancement of Science, the Econometric Society, and the Society of Labor Economists. He is a research associate of the National Bureau of Economic Research and was a member of the National Academy of Sciences Board on Testing and Assessment. Lazear was the first vice-president and then president of the Society of Labor Economists.
Lazear holds AB and AM degrees from the University of California, Los Angeles, and a PhD from Harvard University.