Back to top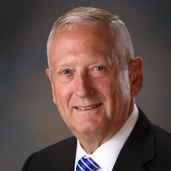 Jim Mattis
Davies Family Distinguished Visiting Fellow
General Jim Mattis was the Davies Family Distinguished Visiting Fellow at the Hoover Institution until being confirmed as the 26th United States Secretary of Defense.
He commanded at multiple levels in his forty-two-year career as a marine. He commanded the I Marine Expeditionary Force and served as the commander of US Marine Forces Central Command. He served as both NATO supreme allied commander for transformation and commander of the United States Joint Forces Command (2007-9). He commanded the Marine Corps Combat Development Command and was the executive secretary to Secretaries of Defense William Cohen and William Perry and the senior military assistant to Deputy Secretary of Defense Rudy De Leon.
A native of the Pacific Northwest, he graduated from Central Washington University (1972). He also graduated from the Amphibious Warfare School, Marine Corps Command and Staff College, and the National War College.