Back to top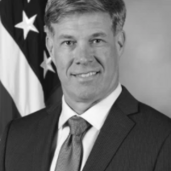 Joseph Felter
hoover Institution Research Fellow
Joe Felter is a research fellow at the Hoover Institution and William J. Perry Fellow at the Center for International Security and Cooperation.
From 2017 to 2019, Felter served as US deputy assistant secretary of defense for South Asia, Southeast Asia, and Oceania. There he was the principal advisor for all policy matters pertaining to development and implementation of defense strategies and plans in the region and responsible for managing bilateral security relationships and guiding Department of Defense (DoD) engagement with multilateral institutions.

At Stanford, Felter is codirector of the Empirical Studies of Conflict Project and coauthor of Hacking for Defense, a defense innovation­–focused academic curriculum he helped develop and pilot at Stanford, sponsored by the DoD and taught at more than 30 universities across the country. His previous academic positions include director of West Point's Combating Terrorism Center, assistant professor in the US Military Academy's Department of Social Sciences, and adjunct associate professor at Columbia University's School for International and Public Affairs. His research focuses on addressing politically motivated violence and has appeared in the American Economic Review, Journal of Political Economy, Journal of Development Economics, Journal of Conflict Resolution, and a range of other academic and policy-focused publications. He is coauthor of Small Wars, Big Data: The Information Revolution and Modern Conflict (Princeton University Press, 2018).

A former US Army Special Forces and Foreign Area officer, Joe served in a variety of special operations and diplomatic assignments across East and Southeast Asia. His combat deployments include Panama with the 75th Ranger Regiment, Iraq with a Joint Special Operations Task Force, and Afghanistan, where he commanded the COMISAF Counterinsurgency Advisory and Assistance Team, reporting directly to Generals Stanley McChrystal and David Petraeus.
Felter is founder and senior advisor at BMNT a Silicon Valley–based technology incubator and problem-solving platform named by Forbes magazine in 2016 as one of the nation's top-25 veteran-founded start-ups. He served as a member of the Marines Memorial Board of Advisors and is currently a board member of Spirit of America, a nonprofit supporting the needs of US military members deployed overseas.

He received a BS from the US Military Academy at West Point, a masters in public administration from the Harvard Kennedy School of Government, a graduate certificate in management from the University of West Australia, and a PhD in political science from Stanford University. He is a graduate of the Singapore Armed Forces Senior Service College and was a US Army War College Fellow at the Hoover Institution.