Back to top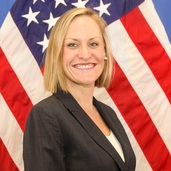 Katharine M. R. Beamer
Katharine M. R. Beamer, representing the U.S. Department of State, was formerly a National Security Affairs Fellow for the academic year 2021–22 at the Hoover Institution.
Katharine Beamer was born and raised in San Diego, California. She graduated from Stanford University in 2001 with a Bachelor's degree in International Relations and a Master's degree in Sociology. Katharine joined the Foreign Service in 2001 and has served overseas in U.S. Embassies in Guatemala, Poland, Slovakia, Bolivia, and the Dominican Republic, as well as two tours in Washington.
In Guatemala, Katharine worked primarily as the Human Rights Officer on the nascent effort to establish the UN International Commission Against Impunity (CICIG). In Poland and Slovakia, Katharine worked as a political officer and followed themes such as ethnic tension, rising extremism, trafficking in persons, rule of law, and judicial integrity. In Bolivia, Katharine served as the Deputy Counselor of the Political, Economic, and Commercial Section, where she prioritized expanding commercial relations between the United States and Bolivia. In Dominican Republic, Katharine served as the Political and Economic Counselor, managing relations with the Dominican government and private sector during the 2018 Dominican Republic's flip of diplomatic recognition from Taiwan to China, the 2020 national presidential and legislative elections, and the beginning of the global COVID-19 pandemic.
In Washington, Katharine worked in the Bureau of Western Hemisphere Affairs in the offices of Brazil and Southern Cone Affairs on Paraguay and Uruguay, and in Caribbean Affairs on Trinidad and Tobago, Barbados, and the Eastern Caribbean. She was also selected to be a State Department Pearson Fellow and served as a Foreign Policy Advisor in the office of Senator Benjamin L. Cardin (D-MD) from 2011-2012, during which time she worked on passage of the Sergei Magnitsky Rule of Law Accountability Act (Pub. L. 112-208), which provides the State and Treasury Departments with tools to combat corruption and human rights violations overseas.
More From Katharine M. R. Beamer