Back to top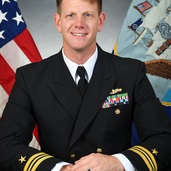 LCDR Brian M. Harrington
Lieutenant Commander Brian Harrington, representing the U.S. Navy, was formerly a National Security Affairs Fellow for the academic year 2021-22 at the Hoover Institution.
Lieutenant Commander Brian Harrington was raised in Alexandria, Virginia and graduated from the University of Virginia before being commissioned through Officer Candidate School.
LCDR Harrington is a Surface Warfare Officer with afloat tours onboard Guided Missile Destroyers (DDGs) and at an Expeditionary Riverine Squadron. He has served as a Combat Systems Officer, Weapons Officer, Boarding and Force Protections Officer, and Rescue Swimmer for afloat operations in PACOM, CENTCOM, EUCOM, the Horn of Africa and expeditionary operations inSoutheast Iraq. Most recently Brian served as the Operations and Plans Officer at Task Force SIX FOUR , the Sixth Fleet Integrated Air and Missile Defense cell in Naples, Italy.
LCDR Harrington attended the Naval Postgraduate School where he received a Master of Arts in Strategic Studies with a focus on Europe and Eurasia with Outstanding Thesis recognition. His personal awards include the Meritorious Service Medal, Navy and Marine Corps Commendation Medal, and Army Commendation Medal, as well as multiple unit and service awards.
More From LCDR Brian M. Harrington