Back to top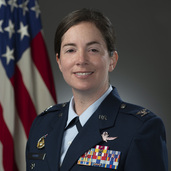 Col. Jennifer A. B. Carns
Colonel Jennifer Ann Branigan Carns, representing the U.S. Air Force, was formerly a National Security Affairs Fellow for the academic year 2021-22 at the Hoover Institution.
Colonel Carns is a cyberspace officer with a focus on expeditionary communications, having served in United States European Command, Air Forces Central Command, and the Air Staff. She commanded an Engineering Installation Squadron, a Communications Squadron and a Postal Detachment and deployed to Southwest Asia four times in support of Operations Enduring Freedom and Iraqi Freedom. Most recently, she served as the Executive Assistant to the Chief of Staff of the Air Force.
Colonel Carns graduated from the University of Florida with a Master of Science and Bachelor of Science in Decision and Information Sciences. She also holds a Master of Military Operational Art and Science from Air University.
Her research at Hoover will focus on artificial intelligence and cybersecurity.
More From Col. Jennifer A. B. Carns