Back to top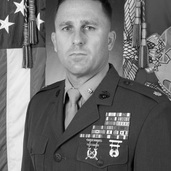 Lt Col Michael E. Feuquay
Lieutenant Colonel Michael E. Feuquay, representing the U.S. Marine Corps, was formerly a National Security Affairs Fellow for the academic year 2021–22 at the Hoover Institution.
Feuquay served in a variety of command and support roles throughout his 19-year career as a Financial Management Officer. As a lieutenant, he deployed to Iraq in support of Operation Iraqi Freedom, as the 1st Marine Division Comptroller.
As a captain, he served as Company Commander with 1st Recruit Training Battalion at the Marine Corps Recruit Depot in San Diego, California. In addition, he served as the Deputy Comptroller with 3d Marine Division. During his tour with 3d Marine Division, he deployed to Afghanistan in support of Operation Enduring Freedom, as the Officer in Charge of the Afghan Reintegration Program.
As a major, he served as the Branch Head of the Ground Financial Management Branch, with Marine Forces Command.
As a lieutenant colonel, Feuquay served as the Comptroller of 2d Marine Logistics Group and commanded the Marine Corps' Financial Management School.
Lieutenant Colonel Feuquay earned an undergraduate degree in Criminal Justice from San Jose State University and a MA in Human Resource Management from Webster University.
Lieutenant Colonel Feuquay's research at Hoover will focus on emerging threats to U.S. national security, and the Marine Corps' plan to optimize itself to meet those threats.
More From Lt Col Michael E. Feuquay