Back to top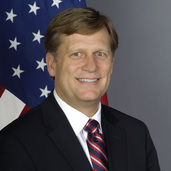 Michael McFaul
Peter and Helen Bing Senior Fellow
Michael A. McFaul is the Peter and Helen Bing Senior Fellow at the Hoover Institution as well as a professor of political science, director and senior fellow at the Freeman Spogli Institute for International Studies at Stanford University. He also currently works as a news analyst for NBC. His areas of expertise include international relations, Russian politics, comparative democratization, and American foreign policy. From January 2012 to February 2014, he served as the US ambassador to the Russian Federation. Before becoming ambassador, he served for three years as a special assistant to the president and senior director for Russian and Eurasian Affairs at the National Security Council.
He has authored and edited several books including, From Cold War to Hot Peace (2018), with Kathryn Stoner, eds., Transitions to Democracy: A Comparative Perspective (2013); Advancing Democracy Abroad: Why We Should and How We Can (2009); with Valerie Bunce and Kathryn Stoner-Weiss, eds., Democracy and Authoritarianism in the Postcommunist World (2009); with Anders Aslund, eds., Revolution in Orange: The Origins of Ukraine's Democratic Breakthrough (2006); with Nikolai Petrov and Andrei Ryabov, Between Dictatorship and Democracy: Russian Postcommunist Political Reform (2004); with James Goldgeier, Power and Purpose: American Policy toward Russia after the Cold War, (2003); with Timothy Colton, Popular Choice and Managed Democracy: The Russian Elections of 1999 and 2000 (Brookings Institution Press, 2003); Russia's Unfinished Revolution: Political Change from Gorbachev to Putin (2001); Russia's 1996 Presidential Election: The End of Bi-Polar Politics (1997); with Tova Perlmutter, eds., Privatization, Conversion and Enterprise Reform in Russia (1995); Post-Communist Politics: Democratic Prospects in Russia and Eastern Europe (1993); and, with Sergei Markov, The Troubled Birth of Russian Democracy: Political Parties, Programs and Profiles (1993). His articles have appeared in Constitutional Political Economy, Foreign Affairs, Foreign Policy, International Organization, International Security, Journal of Democracy, Political Science Quarterly, Post-Soviet Affairs, and World Politics. His op-eds have appeared in the New York Times, the Wall Street Journal, the Washington Post, Politico, Time, and the Weekly Standard.
Dr. McFaul was born and raised in Montana. He received his BA in international relations and Slavic languages and his MA in Soviet and East European studies from Stanford University in 1986. He was awarded a Rhodes scholarship to Oxford where he completed his D.Phil in international relations in 1991.
His research papers are available at the Hoover Institution Archives.