Back to top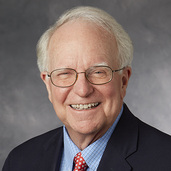 Robert E. Hall
Robert E. Hall holds a joint position endowed by Robert and Carole McNeil as a senior fellow at the Hoover Institution and a professor in the economics department, Stanford University. He is a member of the National Academy of Sciences and a fellow of the American Academy of Arts and Sciences, the Econometric Society and the Society of Labor Economists.
Hall is an applied economist with interests in technology, competition, employment issues, and economic policy. He is a frequent contributor to discussions of national economic policy, including monetary policy, fiscal policy, and competition policy. Hall's research focuses on levels of activity and stock market valuations in market economies and on the economics of high technology, particularly the Internet. His most recent book, Digital Dealing: How e-Markets Are Transforming the Economy, was published by W. W. Norton in 2001.
Along with Hoover colleague Alvin Rabushka, Hall is an active proponent of the flat tax. Their article in the Wall Street Journal in December 1981 was the starting point of an upsurge of interest in the flat tax. This led to their book, The Flat Tax (Hoover Institution Press, 1985 and 1995). The pair was recognized in Money magazine's Money Hall of Fame for their contributions to financial innovation over the past twenty years.
Hall is coauthor, with Marc Lieberman, of Economics: Principles and Applications, 3rd edition (South-Western, 2004).
Hall also serves as director of the research program on economic fluctuations and growth of the National Bureau of Economic Research, an interuniversity research organization. He is chairman of the bureau's Committee on Business Cycle Dating, which maintains the semiofficial chronology of the U.S. business cycle.
Hall has advised a number of government agencies on national economic policy, including the Justice Department, the Treasury Department, and the Federal Reserve Board. He served on President-elect Ronald Reagan's Task Force on Inflation Policy and was a member of the National Presidential Advisory Committee on Productivity. He has testified on numerous occasions before congressional committees concerning national economic policy. He presented the Ely Lecture to the American Economic Association in 2001.
Before coming to Stanford, Hall was a professor of economics at the Massachusetts Institute of Technology and an assistant professor at the University of California at Berkeley.
Born in Palo Alto, California, he attended school in Palo Alto and Los Angeles, received his B.A. from the University of California at Berkeley and his Ph.D. from the Massachusetts Institute of Technology.
Hall is married to economist Susan Woodward and lives in Menlo Park, California.