Back to top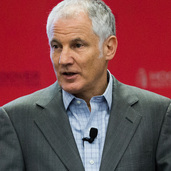 Stephen Kotkin
Stephen Kotkin, in addition to being a Hoover senior fellow, is the Birkelund Professor of History and International Affairs in the Woodrow Wilson School and History Department of Princeton University, where he has taught since 1989. He received his PhD at UC Berkeley during the years Reagan was president. He has been conducting research in the Hoover Library and Archives for three decades. He founded and runs Princeton's Global History Initiative.
Kotkin's research encompasses geopolitics and authoritarian regimes in history and in the present. His publications include Stalin: Waiting for Hitler, 1929-1941 (Penguin, October 2017), Stalin, Vol. I: Paradoxes of Power, 1878-1928 (Penguin, November 2014), part of a three-volume history of Russian power in the world and of Stalin's power in Russia. The first volume has been called "superb" (Wall Street Journal); "riveting" (New York Times); "magisterial" (American Scholar); "masterful" (Literary Review); "near definitive" (New Yorker); "exceptionally ambitious" (Atlantic); "exciting" (Reason); and "judicious" (First Things). He has also written a history of the Stalin system's rise from an in-depth street-level perspective, Magnetic Mountain: Stalinism as a Civilization (University of California, 1995). With the Berlin Wall collapsing two months into his first course at Princeton, Kotkin has written a trilogy analyzing communism's demise. Two volumes have appeared thus far: Armageddon Averted: The Soviet Collapse 1970–2000 (Oxford, 2001; revised edition 2008) and Uncivil Society: 1989 and the Implosion of the Communist Establishment, with a contribution by Jan T. Gross (Modern Library, 2009). A third, on the Soviet Union in the third world and Afghanistan, is in manuscript.
Although he has never served in government, Kotkin has participated in numerous National Intelligence Council events over the years. He served as the lead book reviewer for the New York Times Sunday Business Section (2006–9), and has published a large number of reviews and essays in the New Republic, Foreign Affairs, Financial Times, Times Literary Supplement, and New Yorker, among other venues. He has been a Hoover National Fellow, an American Council of Learned Societies Fellow, a National Endowment for the Humanities Fellow, and a Guggenheim Fellow.