Back to top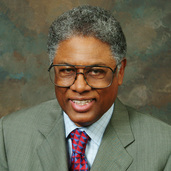 Thomas Sowell
Rose and Milton Friedman Senior Fellow on Public Policy
Thomas Sowell is the Rose and Milton Friedman Senior Fellow on Public Policy at the Hoover Institution. He writes on economics, history, social policy, ethnicity, and the history of ideas.
During the past three decades, Sowell has taught economics at various colleges and universities, including Cornell, Amherst, and the University of California at Los Angeles, as well as the history of ideas at Brandeis University. He was project director at the Urban Institute (1972-74), a fellow at the Center for Advanced Study in the Behavioral Sciences at Stanford University (1976–77), and an adjunct scholar of the American Enterprise Institute, 1975-76. Sowell was awarded the National Humanities Medal in 2002 and received the Bradley Prize for intellectual achievement in 2003.
Sowell received his bachelor's degree in economics (magna cum laude) from Harvard (1958), his master's degree in economics from Columbia University (1959), and his PhD in economics from the University of Chicago (1968).