Back to top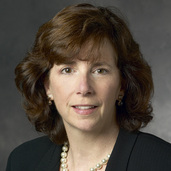 Macke Raymond
Distinguished Research Fellow
Margaret "Macke" Raymond has served as founder and director of the Center for Research on Education Outcomes (CREDO) at Stanford University since its inception in 1999.
The CREDO team conducts rigorous and independent analysis and evaluation of promising programs that aim to improve outcomes for students in US K-12 public schools. Their mantra is "We let the data speak." The team conducts large-scale analyses under a collaboration with 30 state education agencies.
Macke has steered the group to be a well-regarded source of impartial insight into the performance and workings of charter schools, city reform strategies and national reform programs. CREDO's studies and reports are relied upon by the US Department of Education, governors, state chief school officers, state legislators, the courts, other policy makers and the media. Supporters and opponents alike point to CREDO findings, moving the debate past evidence disputes to more substantive arguments.
She is a regular source for local and national media, including the New York Times, the Wall Street Journal, the Washington Post, the Los Angeles Times and the Denver Post. Macke's deep belief in building capacity for improved analysis of programs and policy has found its place through service on advisory boards, technical resource groups and peer review panels. She was selected as a Pahara-Aspen Education Fellow in recognition of her leadership in US education policy.
In addition, Macke created a visiting "CREDO-ship" to invite promising policy analysts to visit with the team and collaborate on projects of mutual interest. Macke and her husband Eric Hanushek live in Stanford, CA with their yellow Labrador Retriever, Sugar.