Back to top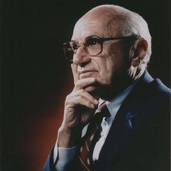 Milton Friedman
Milton Friedman, recipient of the 1976 Nobel Memorial Prize for Economic Sciences, was a senior research fellow at the Hoover Institution (1977-2006). He died on November 16, 2006. He was also the Paul Snowden Russell Distinguished Service Professor Emeritus of Economics at the University of Chicago and a member of the research staff of the National Bureau of Economic Research.
He was widely regarded as the leader of the Chicago School of monetary economics, which stresses the importance of the quantity of money as an instrument of government policy and as a determinant of business cycles and inflation. In addition to his economic work, Friedman also wrote extensively on public policy.
He was a member of the President's Commission on an All-Volunteer Armed Force and the President's Commission on White House Fellows. He was a member of President Ronald Reagan's Economic Policy Advisory Board. Friedman was also active in public affairs, serving as an informal economic adviser to Senator Barry Goldwater, Richard Nixon, and Ronald Reagan.
Friedman received a BA from Rutgers University (1932), an MA from the University of Chicago (1933), and a PhD from Columbia University (1946).