Back to top
Warning message
All user accounts are temporarily disabled for scheduled maintenance until 11PM on 3/30/20 (Pacific Time). We apologize for the inconvenience.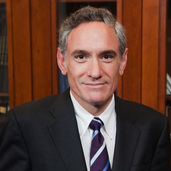 Scott Atlas
David and Joan Traitel Senior Fellow
Scott W. Atlas, MD, is the David and Joan Traitel Senior Fellow at Stanford University's Hoover Institution and a member of Hoover Institution's Working Group on Health Care Policy. He investigates the impact of government and the private sector on access, quality, pricing, and innovation in health care, and he is a policy adviser to government leaders in those areas. Dr. Atlas advises entrepreneurs and companies in the life sciences, medical technology, and health information technology sectors.
Dr. Atlas received a BS degree in biology from the University of Illinois in Urbana-Champaign and an MD degree from the University of Chicago's School of Medicine.