Back to top
Warning message
All user accounts are temporarily disabled for scheduled maintenance until 11PM on 3/30/20 (Pacific Time). We apologize for the inconvenience.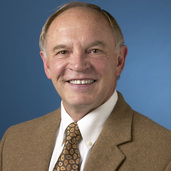 Terry Anderson
John and Jean De Nault Senior Fellow
Terry Anderson is the John and Jean De Nault Senior Fellow at the Hoover Institution and the executive director of PERC (the Property and Environment Research Center), a think tank in Bozeman, Montana, that focuses on market solutions to environmental problems. His research helped launch the idea of free market environmentalism and has prompted public debate over the proper role of government in managing natural resources. He was the cochair of Hoover's Property Rights, Freedom, and Prosperity Task Force.
Anderson received his BS degree from the University of Montana in 1968 and his PhD degree in economics from the University of Washington in 1972, after which he began his teaching career at Montana State University.