Back to top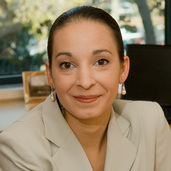 Caroline Hoxby
Caroline M. Hoxby is a senior fellow at the Hoover Institution and a member of the Koret Task Force on K–12 Education. She is the Scott & Donya Bommer Professor of Economics at Stanford University and the director of the Economics of Education Program for the National Bureau of Economic Research. She also serves as a member of the Board of Directors of the National Board for Education Sciences.
Hoxby's research has received numerous awards, including a Carnegie Fellowship, a John M. Olin Fellowship, a National Tax Association Award, and a major grant from the National Institute of Child Health and Development. She is the recipient of the 2006 Thomas J. Fordham Prize for Distinguished Scholarship.
She has written extensively on educational choice and related issues. She is the editor of The Economic Analysis of School Choice (University of Chicago Press, 2002) and College Choices (University of Chicago Press, 2004). Some of her published articles include "Does Competition among Public Schools Benefit Students and Taxpayers?" (American Economic Review, 2000), "Not All School Finance Equalizations Are Created Equal" (Quarterly Journal of Economics, 2001), and "How Teachers' Unions Affect Education Production" (Quarterly Journal of Economics, 1996).
Hoxby, who was the subject of a feature article in The New Yorker, has an undergraduate degree, a master's degree, and a doctorate in economics. She earned her master's degree in 1990 from the University of Oxford, which she attended on a Rhodes Scholarship, and her doctorate in 1994 from the Massachusetts Institute of Technology.